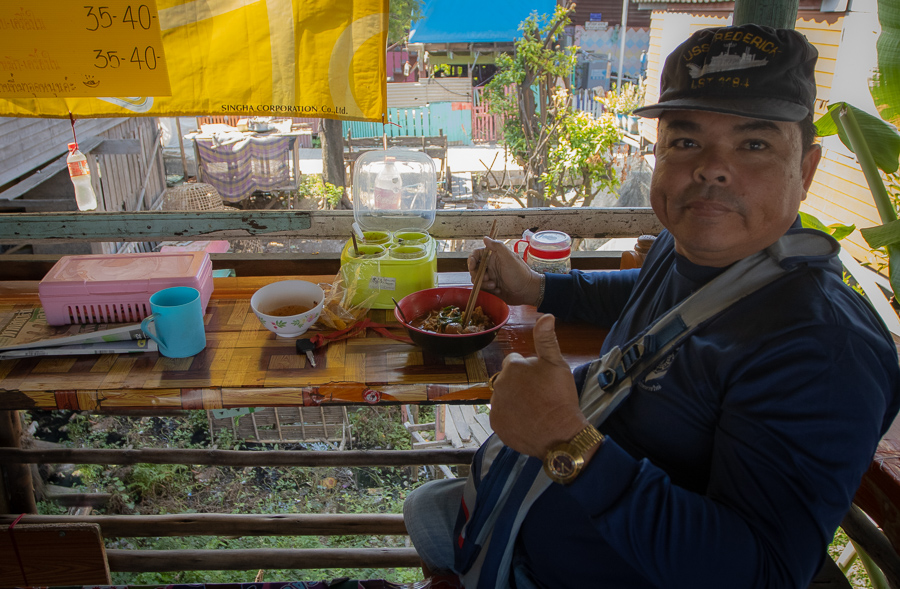 I took a day trip to Ayutthaya, the capital of the Siam Empire (now Thailand) from the 1300s-1700s. over 414 years, and is now a medium-sized city (population 80,000) about 2 hours north of Bangkok and accessible by train.
If you're in Bangkok and can get to a train station, I highly recommend the two hour trip north to Ayutthaya. Take the train to Phra Nakhon Si Ayutthaya, which is one station before the final stop, then hop on one of the red trucks (10 baht) to take you around the town. Motorcycles are also available for rent if you have a little experience with Asian roadways. When you visit, be sure to eat like a local at one of the many street stalls or family-run restaurants. The food is delicious and two large meals will cost about as much as one combo meal at KFC back home.
It's now a medium-size town with many historic sites, about two hours north of Bangkok by train. I rented a motorcycle for the day, since there's far less traffic than in Bangkok. While riding up a back road to one of the temples I stopped for food and met a nice family for a fantastic lunch. The gentleman told me about his time in the Thai Navy during the Vietnam war. He met many of our U.S. servicemen who worked closely with the Thai allies.
The ruins of the old town were musty and moss-covered, but well worth the trek to get away from the crowds in Bangkok