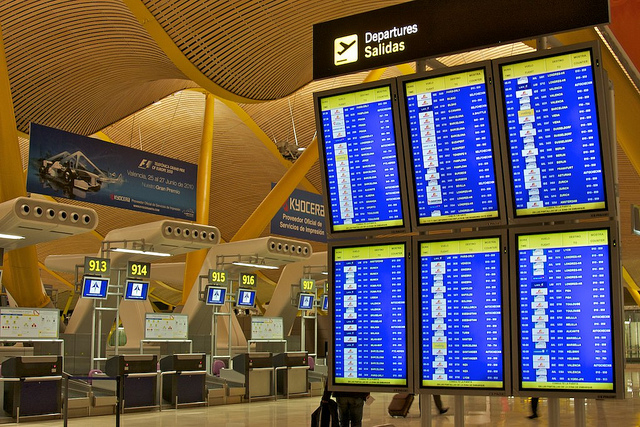 Madrid Barajas Aiport's Terminal 4 was completed in 2006, and boasts an amazing structure of curved ceilings, soft muted colors and smooth rounded lines. I liken it to an updated "Enterprise" spaceship, especially with the giant head shaped pods, housing air ducts, that were openly incorporated into the design. I watched this promo video a while back and was excited to see it first hand.
Not all U.S. airlines use Terminal 4. Terminals 1-3 are quite functional and remain heavily used, just lack the beauty and elegance of the new structure. Except for American Airlines and Iberia, which are part of OneWorld and use T4, other airlines to and from the U.S. use the A Gates at the far end of Terminal 1, necessitating a very long walk to immigration and customs, then another very long walk to the Metro Station.
I was very early for a flight to Morocco, so I took the subway an extra stop to T4 to take some photos at dawn of the airport starting to come to life. Check out the ultra shiny floor in front of the arrivals door – you could practically eat off it. The Madrid Metro's line 8 has a separate and very modern station for Terminal 4, and I was surprised to find transit time between the airport and most points in the city center only took about 25-30 minutes even with a couple transfers.
Madrid Barajas Airport